Measures of Covid-19 Infection Prevention

① Installation of alcohol disinfectant
② Body temperature test before staying
③ Request to wear a mask except when eating or drinking in the shared room
④ Request not to stay in a shared room, if it seems crowded.
⑤ Frequently cleaning the facility with alcohol disinfection
⑥ Always ventilating in the facility

About staff

① Wearing mask as much as possible
② Infection prevention sheet at the front counter
③ Body temperature test before work-hour
④ Cleaning health protocols (regular and properhand washing, gargle, alcohol disinfection)

※ If any of our guest is reported as infected with covid-19, this establishment will strictly follow the instructions of the proper local health authorities or the health center.
The Base Where Ocean Enthusiasts Are Connected

Guesthouse Ise Futami is attached to "U3*Labo" Scuba Dive Shop which introduces you to the world's ocean.
U3*Labo guides you to the ocean around Kii Peninsula as well as all over Japan and the world.
Scuba diving license course of PADI is always managed, which is the most selected diving license association in the world.

U3 * Labo

to official Site
Ise City Where We Are Located in

Ise Grand Shrine (Ise Jingu) is the most historical Shinto shrine and derived from Japanese emperorship.
A bus stop, where CAN Bus (Ise Futami Toba circular bus) stops, can be reached on foot from our guesthouse. This bus brings guests to Ise Grand Shrine and all the tourist spots around Ise, Futami and Toba city.
One of the most popular spots, "Meoto Iwa" is also from a walking distance.

Tourist Spots
Very Convenient Location

Our guesthouse is along Route 42.
A free bypass highway which joins the main expressway running through Mie prefecture from the north to the south is very close as well, so it's easy to get to our guesthouse for driving traveler.
A train station and highway bus stops are also very accessible.
Therefore, you can visit us by public transportation without any difficulty.
Various restaurants, a convenience store and a large supermarket are all at a walking distance.

Surrounding Map

Facilities
Comfortable private environment.
We offer a mix dormitory in capsule style, but the female area is partitioned with a curtain.
Capsule Bed

We have 20 capsule beds which consist of 10 lower beds and 10 upper beds.
The entrance of this capsule can be closed with a roller shade and your privacy is assured.
A single bed is set inside which gives you a very comfortable and relaxing feeling.
A memory form mattress provides you a peaceful sleep at night time.

Free Space

The depth of our capsule has a free space for your work or make-up stuff.
Some convenient items like mirror, table lamp and more are provided.
For your information, a file of surrounding info, schedule of public transportation and more are provided as well.
To establish communication between travelers, we focus on your comfort and satisfaction.
Enjoy a friendly and cozy environment throughout your stay with us.
Community Space

Bookshelves are located in the community space and photo albums, tourism magazines and comics are also available for free reading.
Please take a look at some in your spare time.
There is also some instrument in the area.
We hope to have some music session occasionally.

Kitchen

Dishes and kitchenware as well as fridge, microwave, toaster and more are provided.
There is a supermarket from a walking distance which offers a lot of variety of food choices.
You can also try to make your favorite dishes in our kitchen to share with your new friends.
Our boss loves Takoyaki (Octopus Ball), so Takoyaki cooker is also provided!

Toilet/ Shower Room

Our toilets are all private room style and are equipped with washlets.
Our two shower rooms are unisex and attached to a private dressing room.
Our wash area also has a great variety of amenities for your convenience.

《Booth for female available》

A booth for female has shower box and wash space.
Not only the available amenity in the shared wash area, but also a hair iron. facial pack and more.
Female guests can use this facility in full privacy.

Locker room

Our locker room is found right next to the bedroom entrance.
This locker is locked with a key, so your valuables are securely kept.
Face towel and bath towel are prepared in advance inside your locker.
You may also use our changing rooms located next to the locker room.
Please use our changing rooms when changing wares.
All our staff is more than happy to support you for a fun and memorable stay in Ise City.
Please do not hesitate to let us know any of your requests!
Front Desk

Our front desk is shared with U3*Labo Scuba Dive Shop.
Your Check-In and Check-Out are managed at this front desk.
Also, our rental bicycles and rental tablets are available.
Our rental tablet is not only for net-surfing, but also for watching movies, browsing social media and whatever you want to use it with.
Our front desk accepts your tour booking requests for scuba diving, other local tours, taxi arrangements and others.
Feel free to approach any of our front desk staff for your concerns, requests and other inquiries.

Meals

Our kitchen is free for use. You may order drinks, alcohol including local beer and Sakえ and some instant food and more.
It is very easy to make your order. Just message our social media page and our staff will be glad to bring your food and
drinks to the community space.
There are so many kinds of restaurants and bars around our guesthouse as well such as Japanese, BBQ, Chinese, Izakaya and more.
Of course Pizza and Chinese food catering are also available.

Scuba Diving

The first floor is shared with U3*Labo Scuba Dive Shop.
They are operating diving tour around Kii peninsula on a daily basis and you can join the tour if you book until at least a day before diving Kii peninsula is one of the most popular diving areas in the main land of Japan.
Kuroshio (Japan current) flows across from Philippines and Taiwan.
This current brings fish, creature and coral with warm water from tropical areas, so you can observe them underwater.
What's more is a very unique underwater animal such as lamp fish seen in winter, which always attracts divers.
U3*Labo's diving tour offers not only fun diving, but also scuba diving license course of PADI, which is the most selected scuba diving association of the world.
Diving tours all over Japan and the world are organized and offered.
U3*Labo brings you to your favorite ocean in the world and guides you underwater!!

U3 * Labo

to official Site

Rental space

We are planning to open some day time lesson class.
Also our space is able to be used for girl's party and event.
Anyone looking for some space, please feel free to inquire us.

Charges Overview
Stay・Rest Plan
We accept advanced payment for booking only except booking on the day.
Sun - Thu:

¥3,600〜

(¥3,960〜 inc. tax)

Fri / Sat / the day before public holiday / the day before and on the day of public event:

¥4,500〜

(¥4,950〜 inc. tax)

Rest

¥1,800

(¥1,980 inc. tax)
※6 hours between 7:00~18:00
※¥100 (¥110 inc. tax) every 15 min when extended.
Cancelation policy

6 ~ 4 days before: 20% of payment
3 ~ 2 days before: 50% of payment
1 day before: 100% of payment
On the day: 100% of payment
Non-contact cancellation: 100%of payment
Check-in・Check-out
Check-in

15:00〜22:00

※Please inform us when arriving later than at 22:00.

《Early check-in》

※Please inform us in advance.

Until 11:59 + ¥1,000 (¥1,100 inc. tax)
After 12:00 If cleaning is done, able to check in.

Check-out

7:00〜10:00

※Early check-out (before 7:00), please inform us in advance.

《Late check-out》

※please inform us in advance.

10:00-13:00: + ¥900 (¥990 inc. tax)
13:00-16:00:+ ¥1,800 (¥1,980 inc. tax)※ Advance request required
16:00-21:00:+ ¥3,600 (¥3,960〜 inc. tax)※ Advance request required
Later than 13:00:¥100(¥110 inc. tax)every 15 min ※ No request in advance
Other service
Internet

Wi-fi connection is accessible within the whole area.

Front Desk Services

Baggage storage
Fax/ Photocopy (Paid)
Rental tablet :¥1,000 (¥1,100 inc. tax)
Rental bicycle: Available soon
Food/drinks for sale ※Our staff caters upon messaging us via SNS
Loungeware / Additional pillow / Blanket: Free
Booking of scuba diving tour
Booking of Local tours/Outdoor tours

※ All additional charge is paid when you check out.

Cleaning / Bedding

Facility cleaning: Everyday (10:00 – 15:00)
Bed sheets: Change everyday
Towel/Bath towel/Loungewear: Change everyday

Security

Fire extinguisher, Surveillance cameras (Front entrance, entrance of 2nd floor, shared area) , Fire alarm, Emergency alarm, Evacuation ladder

Language

English, Japanese

Taxi / Pick-up

Taxi arrangement
Transfer within nearby area
Free ※ Transfer may not be available depending on business condition.
Transfer to and from Sun arena (only when a concert is held)
Free ※Transfer may not be available depending on business condition.
Facility
Parking

Free parking space ※ About 5 lots available
Futami public parking ※About 220 lots available: Free (8 min walk)

Entrance

Shoe rack, disposal slippers, alcohol disinfection

Shared space

Tables, chairs, books, tourism magazines, TV, board games, food and drinks sales list, catering list, time table of Public transportation, and more

Shared Kitchen

Kitchenware, dishes, cutlery, microwave, toaster, water heater, Takoyaki cooker, dishwashing detergent, sponge and more

Shower Booth

Dressing room, shampoo, conditioner, facewash, bodywash

Wash Area

Toothbrush, toothpaste, skin lotion, milky lotion, cleansing, Q-tip, cotton, shaver, hair band, comb, hair dryer

Booth for female

Shampoo, Conditioner, Facewash, Bodywash, Tooth blush, Tooth paste, Skin lotion, Milky lotion, Cleansing, Hair oil, Q-tip, Cotton, Hair band, Comb, Hair dryer, Hair iron

Locker Room

Changing room, full length mirror, deodorants, towel and bath towel and more

Capsule Room

Single bed, desk, cushion, wall outlet, desk lamp, facility/nearby information list, food and drink sales list, catering list, schedule of public transportation, table mirror and more

Others

Air conditioner, outside smoking area (no smoking inside the building), heater, air cleaner, humidifier and more
Notes
Children Policy

Children under elementary school age are not accepted.
Children of elementary school age are able to stay with their parents.
Those under age of 18 years old require the consent of a parent or guardian.

Pet Policy

Pet is not allowed in the facility. (We introduce a pet hotel in the surroundings)

Prohibited

No smoking in the facility / Prohibition of footing inside the facility / No food and beverage allowed in bed area/Acts that may violate public order and morality
Others
Cosplayers are Welcome

Cosplay meetings and photo sessions are welcome at some location in Ise city.
Before the cosplay event, please check in advance at the facility if cosplay is available or not.
※ Casplaying outside around our guesthouse will not be allowed.

About Us
Our guesthouse is a base where ocean lover, nature lover and travel lover gather with their excitement and big fun.
We are all very happy to support your travel in Ise City to make it a very memorable moment in your life.
Our cozy and clean environment is always prepared with full of various ideas to create interaction between guests.
Guesthouse Ise Futami
Location

〒519-0606
156, Futami-cho So, Ise City, Mie Prefecture

TEL

0596-65-6989
(7:00~22:00)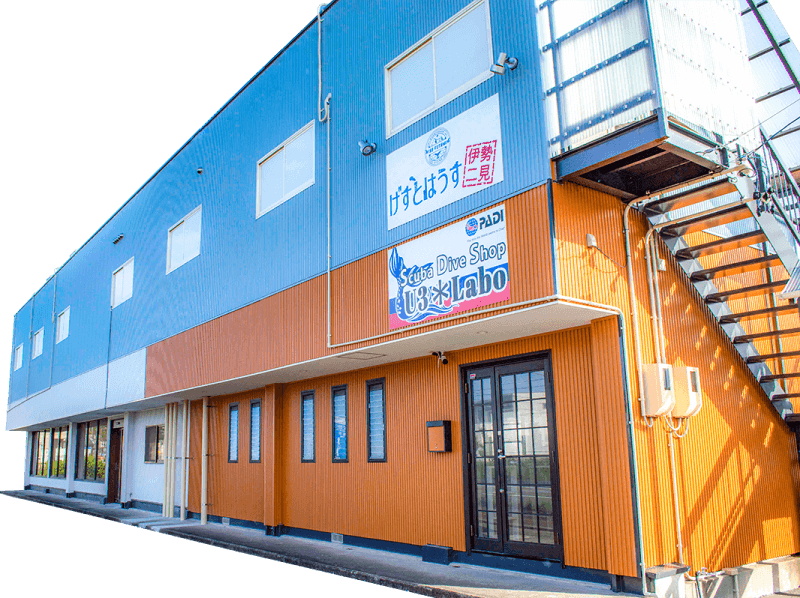 Access
By Car

Along route 42
Asama Higashi IC of Ise Futami Toba line (Bypass highway): 5 minutes by car

※Free parking space (About 5 lots available)

※Futami public parking (About 220 lots available: Free (8 minute walk)

By Public Transportation

JR Futaminoura Station: 7 minutes on foot
Kintestu Ujiyamada Station: 45 minutes by CAN bus (Ise Futami Toba circular bus) to Futamiura Omote Sando Bus Stop.
CAN bus (Ise Futami Toba circular bus): 8-minute walk from Futamiura Omote Sando Bus Stop
Mie Kotsu Highway Bus (From Tokyo, Yokohama and Omiya): 8-minute walk from Futamiura Omote Sando Bus Stop
Willer Highway Bus (From Tokyo and Yokohama): 15-minute walk from Hotel Castle Inn Ise Meotoiwa Bus Stop
Surrounding Map
Convenience Store (Lawson Ise Futami-cho Chaya Branch)

450m

Supermarket (Price Cut Ise Futami Store)

750m

Futami Post Office

290m

Pharmacy (Welcia Ise Futami Store)

750m

Futamiura Tourism Office

600m

Coin Laundry (AWA Futami Store)

800m
Tourist Spots
Futamiura Beach

0.65km

Ise Grand Shrine of Geku

6.8km

Hinjitsukan (a national important cultural property)

1.3km

Sarudahiko Shrine

7.5km

Futami Okitama Shrine (Meoto Iwa)

1.5km

Ise Grand Shrine of Naiku

9km

Ise Ninja Kingdom

1.8km

Mikimoto Pearl Island

9.3km

Ise Meotoiwa Meoto Yokocho (Ise Sea Paradise)

2.4km

Toba Aquarium

9.6km

Sun Arena

3.1km
In addition, we introduce a variety of sightseeing information around Ise for your purpose at our guesthouse.

Contact
We do not accept your booking from this inquiry form.
When you make your booking,please go to
our booking page.
If you change your booking date and cancel your booking, we accept your request from phone call or Email form below
(if your booking date is close, we accept your phone call only).
※ If you cancel your booking within 1 week before the date, we charge you a cancelation fees.
Inquiry from Email form
Please fill the forms below.
The blank forms with "*" require your information.